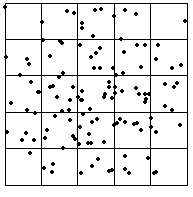 you chose

... you are
the rain drops are clumped towards the middle
Each rain drop fell independently of the rest, but had a tendency to fall towards the centre of the pavement.
Compare this with the pattern for day 1. You will find that they have exactly the same number of empty tiles, overfull squares etc. In fact, if you plot the distribution of the number of tiles with a given number of rain drops in, you will find the two distributions are identical. Did you think day 1 was an omen too? They are similar in many ways, but day 2 has a systematic unevenness - all the overfull tiles are in the centre.
So you are have correctly picked a portentious day.
---
back to: the story | day 1 | day 2 | day 3 | statistics tutorial